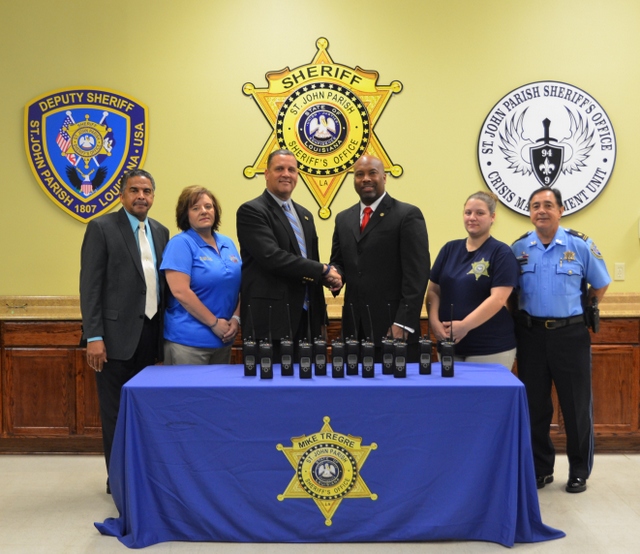 Pictured: Mr. Elton Oubre, Captain Anna Cox, Sheriff Mike Tregre, Superintendent Kevin George, Sergeant Shannon Villafranco, Major Steve Guidry
Sheriff's Mike Tregre is pleased to announce a joint project with St. John Parish School Board to enhance their radio communication system. Sheriff Mike Tregre presented Superintendent Kevin George with 70 Motorola portable radios which will interface with the Sheriff's office and parish communication system.
This is the first time in the history of St. John the Baptist Parish that the four main public safety entities will come together to provide reliable radio communications on the same system and to address any emergencies that may occur in our parish. The four entities of government that will share the Motorola 700/800 radio communication system is the Sheriff's Office, Parish Government, Fire Department and the St. John Parish School system.
The enhancement of the St. John Parish School's Radio Communications system will allow school's within St. John Parish to have direct radio communication with our 911 Dispatchers and Deputies. The 911 Dispatchers and Deputies will have the ability to communicate directly with school board officials and administrators, as well as school bus drivers not only during school emergencies, but also during hurricane evacuations.