St. John the Baptist Parish Sheriff Mike Tregre invites you to witness the first steps to second chances at the SJBSO Opportunity Now Re-Entry Program Ceremony. The ceremony took place on Tuesday May 12th at the St. John National Guard Armory (4120 W. Airline Highway, Reserve, LA 70084) at 11 a.m.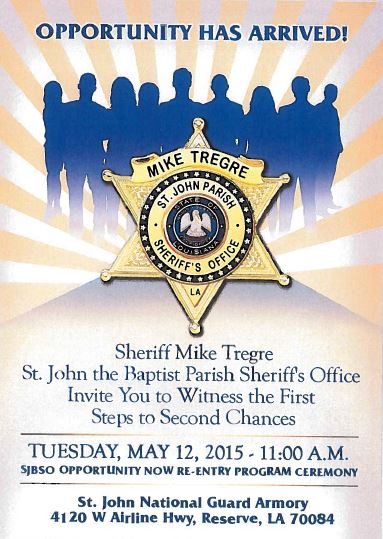 St. John Parish Sheriff's Office Opportunity Now differs from traditional re-entry programs because it is a collaborative effort between the St. John Sheriff's Office, the Louisiana Workforce Commission, Louisiana Rehabilitation Services and the Louisiana Department of Corrections to provide work readiness, job placement and other self-sufficiency services to qualified inmates.

The re-entry participants underwent three months of intensive work readiness and life skills training. The courses are designed to help the individuals make better choices and to cope with a wide variety of issues they may face upon re-entering society. Job placement and case management services are also mandated aspects of the St. John Paris Sheriff's Office Opportunity Now Re-entry Program.