In an effort to raise public awareness about locking vehicles, Sheriff Mike Tregre as initiated the "Secure Vehicle Check" program. These cards, illustrated below, may be seen on vehicles throughout the parish as deputies begin random security checks of vehicles.

The blue card recognizes one's efforts in successfully securing their vehicle when leaving it unattended. One is less vulnerable to being a victim of crime when vehicles are locked and items left in vehicles are stowed away.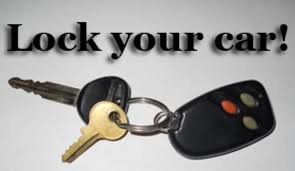 However, a white card is left when a vehicle is found unsecured. The message reminds one that locking vehicles and stowing items out of sight help deter crime.

The best way to deal with crime is to take every step possible to prevent it from happening. Remember to "Lock your car" when you park it.