Monica Hernandez / Eyewitness News
WWL-TV / Channel 4, New Orleans, LA
LAPLACE, La. – It may have been homecoming at St. Charles Catholic High Friday night, but the cheers and fanfare were for more than just the home team.
Prior to the game, dozens of St. John sheriff's deputies lined the field to honor one of their own as the school retired the number of former player Jeremy Triche, a deputy whose life was taken in the line of duty over the summer.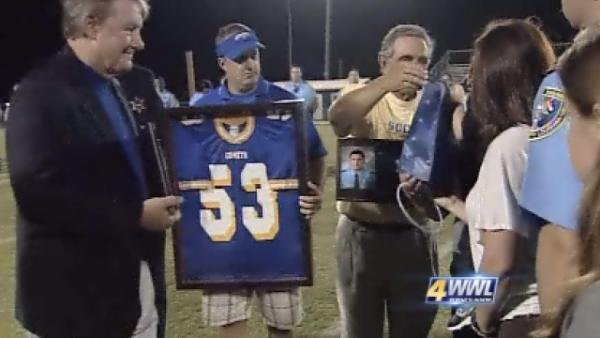 The family of Deputy Triche tearfully accepted the special honor.
Before he graduated in 2002, Triche played center for St. Charles Catholic. And as his family was presented his retired jersey, his young son received a jersey of his own.
"It's been sheerly amazing the support and the love that we felt from this entire community," said Misty Triche, Jeremy's widow. "Words can never express how thankful we are. Because of this, (his son) will always know his father. He'll never be forgotten."
Triche was one of two St. John deputies gunned down in August. Two others were wounded. Since then, there's been an outpouring of support from the community loved ones say that means so much to those left behind.
"I'd like to thank the community for all the support they have given through that awful morning," said Michael Triche, Jeremy's father. "It is truly appreciated by the entire Triche family. Thank you."
"I can tell you that Jeremy has a grin from ear to ear, with his dimples, it's just truly amazing, truly," added his mother Edie.
Sheriff Mike Tregre says ceremonies like this are part of the the healing process for the sheriff's office and the entire community.
"As long as you have the community behind you and our team is stronger than the criminals, we're going to win, so that's how I feel about it.
And all who knew Comet number 53 say they know he was smiling down on the field tonight as they honored his memory.
For more pictures and video, click here