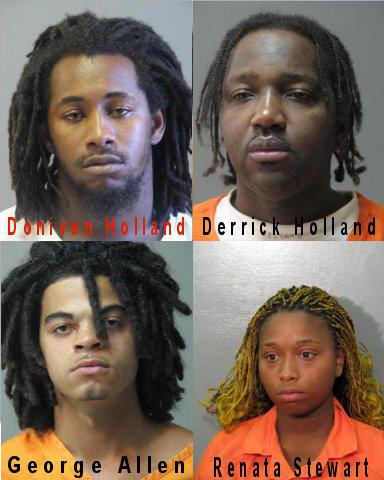 On April 15, 2013, St John Sheriff's Office Narcotic Detectives executed a search warrant at 1117 Apt C, Cambridge Drive in LaPlace, LA. Inside the residence were the two young children (ages three, and two months) of Renata Stewart and Donivon Holland.
During the search of the residence, Detectives seized approximately 113 grams of Marijuana, 1.4 grams of Cocaine, two scales, and one loaded .357 revolver.
Arrested were:
RENATA D STEWART, 25,
1117 CAMBRIDGE DR, LAPLACE LA
DONIVON HOLLAND, 23,
712 MADISON DR, LAPLACE LA
GEORGE ALLEN JR, 18,
712 COLONY DR, LAPLACE LA
DERRICK J HOLLAND, 33,
308 LINWOOD DR, LAPLACE LA

All four were each booked with:
DRUG FREE ZONE VIOLATIONS (School Zone)
PROHIBITED ACTS – TAMPER WITH CDS SYMBOL
DISTRIBUTION/MANUFACTORING SCHD I CDS
POSSESSION SCHEDULE II CDS
ILLEGAL CARRYING OF WEAPON W/CDS
ILLEGAL USE CDS IN PRESENCE OF PERSON UNDER 17
POSSESSION OF DRUG PARAPHERNALIA
In addition to the above charges, Derrick Holland was also booked with PAROLE VIOLATION
Bonds were set for all four at $101,500.00 by Judge Sterling Snowdy.