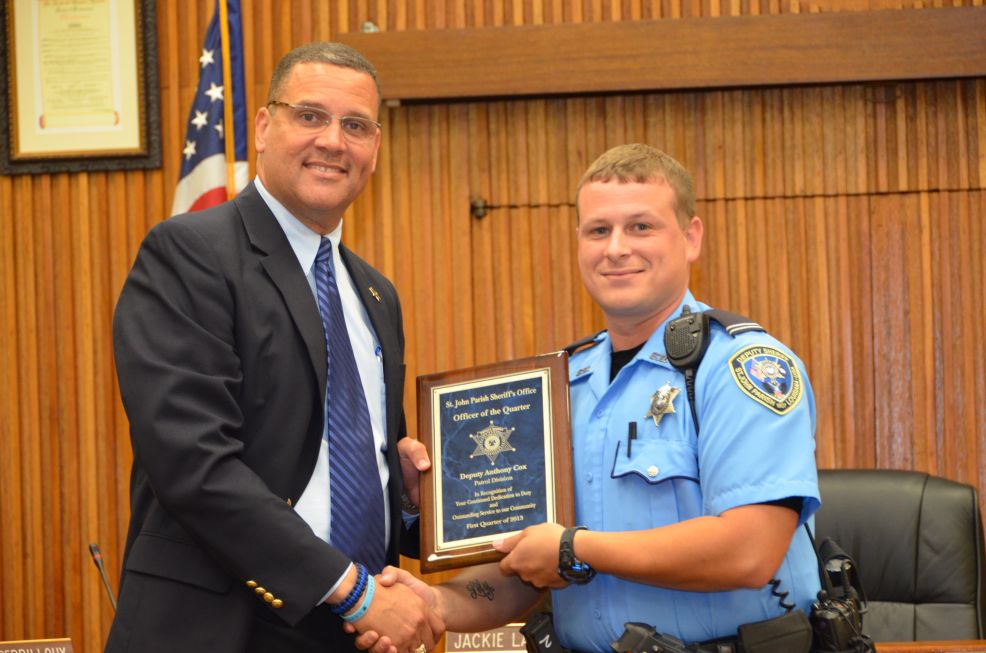 St. John the Baptist Parish Sheriff's Office is pleased to announce Deputy Anthony Cox has been selected for the "Officer of the Quarter" award for the 1st quarter of 2013. He is shown recieving his award from Sheriff Mike Tregre.
During the 1st quarter, Deputy Cox responded to a medical emergency in which a 7 year old was found unresponsive. Deputy Cox immediately put his CPR training into action in an attempt to revive the child. Upon the arrival of Acadian paramedics, the 7 year old was breathing and had a strong pulse, at which time was transported to River Parish Hospital for further treatment.
Although nominated for his recent work, Deputy Cox has consistently been an outstanding employee of the Uniform Patrol Division for the past 4 years. When not on duty, he has taken the initiative to train with our K-9 Division. He is constantly being recognized, not only by his Commanders and peers for his outstanding work, but by the citizens of the community for his professionalism and caring manner. On May 16, 2013, Deputy Cox will also be recognized and be presented with a "2013 Professional Excellence and Unit Citation" award by the Louisiana State Police Department of Public Safety and Corrections, Public Safety Services. His dedication to duty is unwavering.