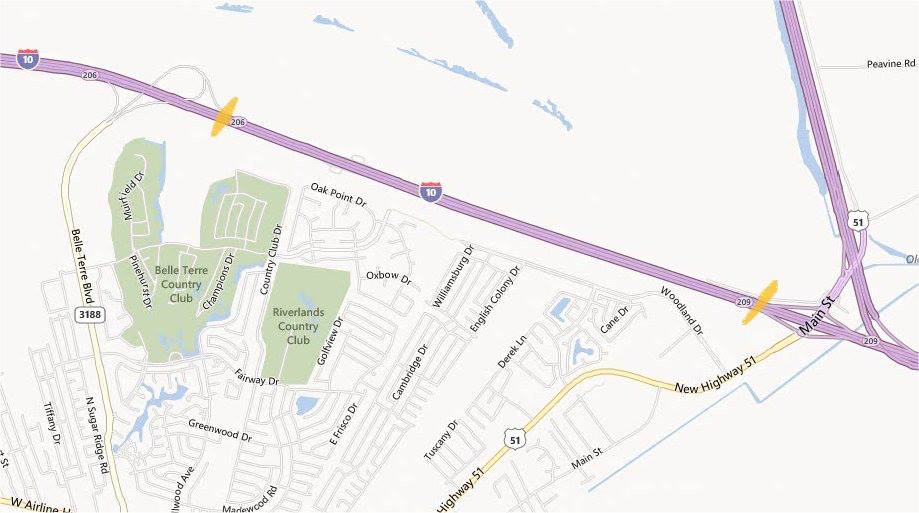 I-10 Eastbound and Westbound, Lane Closures, between Mile Post 207-209, St John The Baptist Parish, State Project No. H.010635.
Beginning Sunday, July 14, 2013, crews from the Louisiana Department of Transportation and Development (DOTD) …will be elevating Interstate-10 fifteen inches in Laplace. The $1.3 million project will eliminate a low point in the roadway and add asphalt to the existing roadway in an effort to address the flooding problem due to storm surge that surfaced during Hurricane Isaac.
Alternating lane closures in both east and westbound roadways will be in effect from 7 p.m. to 5 a.m., nightly, beginning on Sunday July 14 and continuing until August 11, weather permitting, for resurfacing of the roadway. One lane in each direction will be open at all times.
Detour routes are as follows:
ï'·Westbound motorist may detour this roadwork by exiting 1-10 at Exit 209, travel south on US 51 to US 61, north on US 61 to LA 3188 (Belle Terre Blvd), then north on LA 3188 to the junction of I-10.
ï'·Eastbound motorist can exit I-10 at Exit 206, then south on LA 3188 to US 61, south on US 61 to the junction of US 51, then north on US 51 to the junction of I-10.
ONE LANE WILL BE OPEN AT ALL TIMES.
Motorists may take US 61 as an alternate route to avoid construction
.There will be no restrictions on oversized loads at this time.
DOTD appreciates your patience and reminds you to please drive with caution through the work site and be on the lookout for work crews and equipment.
DOTD Project Engineer
District 62/Hammond
DOTD website: www.dotd.la.gov
STATEWIDE TRAFFIC INFORMATION – dial 511 or visit