On Friday, July 25, 2014, at 11:30 pm, St. John the Baptist Parish Sheriff's Office deputies responded to River Parish Hospital for the report of an 18 year-old girl that arrived at the emergency room with a gunshot wound in her left arm. She was transferred to University Hospital and underwent surgery to repair the injury.
Initially, the victim told deputies that she was shot outside her house in the 2100 block of Greenwood Drive in LaPlace by someone in a passing car. After further investigation by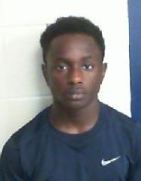 detectives, the victim admitted to detectives that she and her sister were in their house with two male friends. One of the friends took a gun from the waistband of his pants, and they "played around with the gun". He thought that he unloaded the gun and pulled the trigger. The gun discharged, and the bullet struck the victim in the arm.
The victim's friend, Elliot Weber, 17, from Garyville, was arrested and booked with illegal use of a weapon for the criminally negligent discharging of a firearm resulting in great bodily harm. Weber remains in custody in lieu of a $10,000 bond.