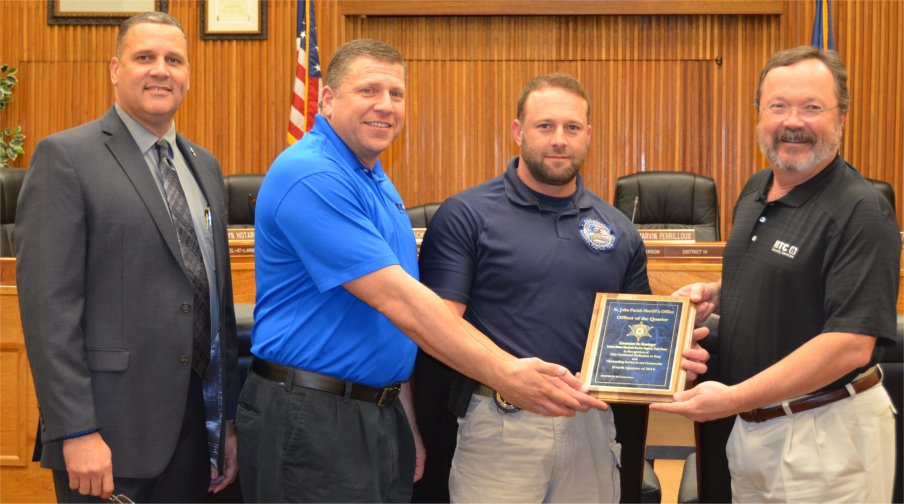 Sheriff Mike Tregre, RTC General Manager, Randy Zaidain, Lt. Bo Bessinger, RTC Owner and President, Bill Ironside.

Sheriff Tregre named Lieutenant Bo Bessinger the St. John Parish Sheriff's Office 'Officer of the 4th Quarter 2014′. Currently assigned to the U.S. Marshals Service Fugitive Task Force and a member of the Sheriff's Office Crisis Management Unit (CMU), Lieutenant Bessinger began his career with the Sheriff's Office over 16 years ago and quickly worked his way through the ranks. Lieutenant Bessinger has continuously worked hard to prove his dedication to the Sheriff's Office and his commitment to keeping St. John Parish safe.
As a member of the US Marshals Fugitive Task Force, Lieutenant Bessinger is tasked with searching for and apprehending the most violent of criminals, often called to report to duty in the very early hours of the morning not knowing when he will return home or if the search will take the team across state lines. Since joining the task force 18 months ago, Lieutenant Bessinger has a 100% arrest rate of all cases assigned to him from St. John Parish Sheriff's Office.
RTC Security Services, the newest division of locally owned and operated Reserve Telecommunications Company (RTC), was the 'Officer of the 4th Quarter 2014′ sponsor. RTC Security Services continues to work closely with St. John Parish Sheriff's Office to keep the citizens of our parish connected and safe.