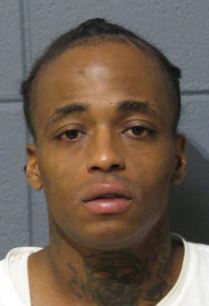 James Tolbert
On Thursday, January 21, 2015, at 8:45 pm, St. John the Baptist Parish Sheriff's Office deputies responded to 1525 West Airline Highway in LaPlace, the Millet Food Center, for the report of a robbery. The cashier told deputies that a man jumped over the counter, punched her in the face, and fled with a sum of money. EMS treated the cashier at the scene for minor injuries; she refused additional medical care.
Through the initial investigation, deputies received descriptions of the perpetrator and the getaway car that fled south on Hemlock Drive. They broadcasted the information to all criminal patrol deputies. Deputies in Reserve saw a car traveling west on Highway LA 44 that matched the description of the getaway car. When deputies stopped the car on East 24th Street, the subject abandoned the car and fled on foot to evade deputies.
The registered owner of the car, who lives at a residence in the 200 block of East 24th Street, told deputies that James Tolbert, 26, of LaPlace had the car all day. Deputies located Tolbert at the residence in the attic and arrested him for an outstanding fugitive warrant for Terrebonne Parish, flight from an officer, speeding, possession of an alcoholic beverage in a motor vehicle, and driver must be licensed.
Based on information gathered during the robbery investigation, detectives obtained a judicial court ordered arrest warrant for James Tolbert for second-degree robbery. Tolbert was booked accordingly. He remains in custody in lieu of a $67,500 bond.