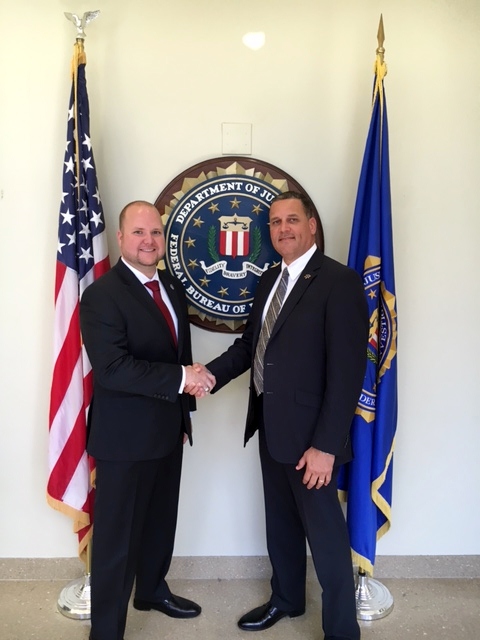 Lt Chip Wale (left) and Sheriff Mike Tregre (right)
Lt. Charles "Chip" Wale, with the St. John Parish Sheriff's Office, graduated March 18, 2016 from the 263rd session of the FBI National Training Academy on the FBI's campus in Quantico, Va. Only ranking officers from law enforcement agencies are accepted to this prestigious program started in 1935. Wale was among 230 members of the session from 47 states and 21 countries.
The academy, a 10-week course that combines rigorous physical training with intense classroom instruction, is designed for U.S. and international law enforcement leaders to improve the administration of justice as well as to promote the personal and professional development of officers. Officers from throughout the world participate in a range of leadership and specialized training, in which they share ideas, techniques, and experiences with each other, as well as create lifelong partnerships.
"The open dialog and comparison of law enforcement and leadership techniques between students and staff is impressive," Wale said. "The networking opportunities were important to me. Getting to know fellow leaders has been fantastic. I now have a network of not only my 231 fellow graduates from around the world, but the entire FBI National Academy Association. I feel the information I now have access to will benefit St. John Sheriff's Office tremendously."
Wale, who started with the St. John Sheriff's Office in 1999, is a Training and Range commander, head of Search and Rescue and a member of the Crisis Management Unit.
Wale became the fifth current St. John Parish law enforcement officer to be accepted into and graduate from the academy. Other officers are Sheriff Mike Tregre, Major Clarence Gray and Lts. Greg Baker and Troy Cassioppi.
Wale said he is grateful to Sheriff Tregre for the opportunity to participate in the academy. "I want to thank Sheriff Mike Tregre for allowing me to attend this amazing program," he said. "I have made new friends, learned so many things about leadership and current law enforcement issues, and I have been working with the PT staff here to get in better shape."
The St. John Sheriff's Office is proud to recognize Lt. Wale for earning this distinguished honor.