Two officers with the St. John Sheriff's Office Bike Patrol leapt into action minutes before the start of the St. Charles Catholic versus Destrehan High football game and saved a man who collapsed, apparently after having a heart attack. Officers Michael Pugh and Michael Dean were both astride their bikes at the packed game Friday night when they were called at 6:50 p.m. to respond to a medical emergency near the bottom of the center stands where a large gathering of fans was waiting for the game to begin. Since the officers were patrolling the grounds on their bikes, they were quickly able to reach the man. Upon arrival, they strategically managed the crowd as they observed a man collapsed in a stadium seat, and immediately assessed the situation. When no pulse was located, they began to administer cardiopulmonary resuscitation until emergency medical services could arrive. Officers Dean and Pugh had to perform CPR for 20 minutes – at the 50 yard line – before a huge crowd that stayed calm and obeyed all of the officers' orders. Once emergency medical services arrived, CPR continued and the man was taken to a New Orleans hospital where he is recovering.
The officers also visited with the gentleman September 11 to check on him, and they reported he was in good spirits. The ER doctors told the gentleman's family that the people who administered CPR did so flawlessly and credits them with the man surviving his heart episode, according to the SCC Quarterback Club FB Page.
Sheriff Tregre said this incident had a successful ending Friday night due to an awesome job performed by Officers Dean and Pugh as well as other first responders who demonstrated great teamwork and outstanding medical training to save a man's life.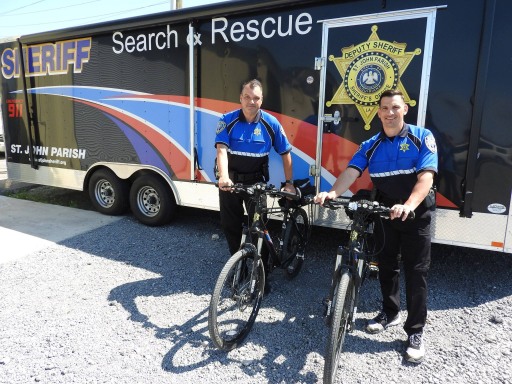 L-R: Deputy Michael Pugh, Det. Sgt. Michael Dean