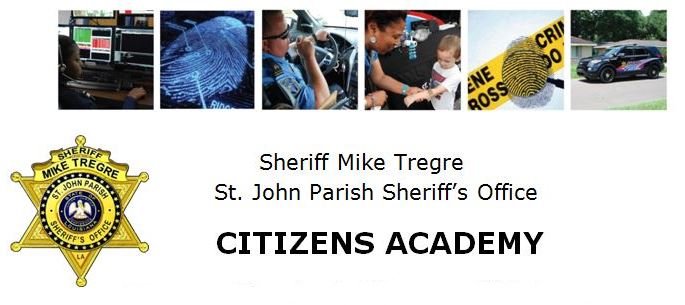 Every Thursday, April 25th – June 27th, 2019
5:45 p.m.  to  9:00 p.m.
Patrol Headquarters
122 Deputy Barton Granier Drive,  LaPlace

** 2019 ACADEMY  **
Applications are available at
Corrections on Barton Granier Drive and the SJSO in the Percy Hebert Building
Community involvement plays a crucial role in fighting crime and developing relationships between citizens and law enforcement.  To strengthen partnerships between the community and the St. John Parish Sheriff's Office, Sheriff Mike Tregre will host the first Citizens Academybeginning in April. This FREE program is open to the public. It provides participants with an insider's view of the operations of the Sheriff's Office in a relaxed and interactive setting.
       Applicants must be at least 21 years old and live or work in St. John the Baptist Parish.
911 and Community/Public Relations
Uniform Patrol Division
K-9 & Training
Traffic
Reserve Division
Criminal Investigations Division
Narcotics/Special Operations Division
Crisis Management Unit
Fleet Management
Information Technology/ Records
Internal Affairs, Polygraph
Traffic
Correctional Facility
Sex Offender Registry
Crime Scene Investigations
Firearm Simulator
Human Resources, Administrative Services
Class size is limited.   Click Here To download application and register before the April 5th deadline.  Complete the application and return in person or by mail to:
Return in Person to:
Deputy Bernell Charles, Sr.
SJSO, Percy Hebert Building
1801 W. Airline Hwy.
LaPlace, LA  70068
Mail to:
Deputy Bernell Charles, Sr.
St John Sheriff's Office
PO Box 1600
LaPlace, LA  70069
Background check is required, and applicants must pledge to attend all classes. Participants will be notified on acceptance into the academy.
For more information call: 985.359.8685