Served in office 1896 – 1900 and 1916 – 1920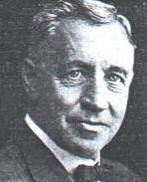 Sheriff Hart was first elected during the infamous election of 1896 againt incumbent Sheriff John Webre. As the ballot boxes were being transported from Edgard to LaPlace, a heated argument ensued near the Bonnet Carre' Point concerning the crossing of the ballot boxes. Soon a riot ensued causing a man to be shot and killed. The State Militia were called to keep order during the ballot counting, and William Hart was declared elected sheriff.
In the election of 1900 Sheriff Hart lost the election to Paul Berthelot. Hart ran for Sheriff again in 1916 against incumbent Sheriff Paul Berthelot. In this hotly contested campaign, featured by many personal controversies, Hart was again elected as Sheriff. In August of 1920 just prior to the election, Sheriff Hart died in office. His son, William B Hart, ran against Emile Picou during the election of 1920 and lost.