Served in office 1928 – 1941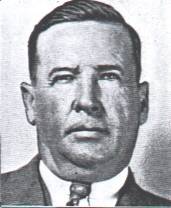 Sheriff Duhe began his Law Enforcement career in 1924 as a Deputy with the St. John Parish Sheriff's Office, following the footsteps of his father who was a New Orleans policeman for some time. In 1928 he was elected Sheriff, a position he held until his resignation on February 15, 1941. The resignation was tendered to then Governor Sam Jones, who accepted his resignation and appointed parish coroner Dr. William Guillotte as acting sheriff until an election could be held. Duhe again ran for Sheriff in 1944 against incumbent Percy Hebert, but lost by a large vote margin.
Duhe was active in the local baseball leagues, sponsoring or coaching a team each year. Tragically, on July 7, 1951, while attending a Reserve Community Club Baseball game coached by his oldest son, when his youngest son, at bat, hit the pitch sending the ball over right field, across river road, and onto the levee. As the crowd rose, Duhe suffered a fatal heart attack at that moment — 10:30pm. Funeral services were held on July 9, 1951 in Reserve, LA.